The Four Agreements by Don Miguel Ruiz
In The Four Agreements, bestselling author Don Miguel Ruiz reveals the source of self-limiting beliefs that rob us of joy and create needless suffering. Based on ancient Toltec wisdom, The Four Agreements offer a powerful code of conduct that can rapidly transform our lives to a new experience of freedom, true happiness, and love.
Awaken Your Genius by Carolyn Elliott
Do you have a nagging suspicion that you're not living up to your creative potential? Do you feel hindered by the deeply embedded programming of social conformity and core limiting beliefs? Most of all, are you ready to shed those shackles and unleash the raging genius deep inside? In Awaken Your Genius, author Carolyn Elliott helps you do just that with a seven-step course that shows you how to live at your fullest creative potential and make manifest your deepest desires and dreams.
In Step 1, Hearing the Heart's Call, you'll learn how to determine your true passions and create a vision for yourself at your most fully realized best. Step 2, Accepting the Call, helps you turn that vision into a commitment. Step 3, Meeting the Guide, opens the door to dialoguing with your inner mentor–the subconscious part of yourself that knows what's missing and how to get it. Step 4, Crossing the Threshold, shows you how to let go of socially programed conformity and venture into your own personal imaginative dreamscape. Step 5, Enduring Trials, gives you tools and tips on navigating the inevitable obstacles that arise when doing this kind of transformational work. Step 6, Becoming Divine, shows you how to tune in to your most expansive, unconditionally loving self, which in turn gives you the power to manifest your dreams and inspire those around you. Step 7, Taming Your Genius, shows you how to negotiate with your newfound genius–a mighty power to be reckoned with–so that it gets sustenance without becoming disruptive. Each step comes with excellent explanations of the powers at work, as well as assignments (called "experiments") and check-ins to make sure you're keeping up with the previous steps.
If you're ready to unleash your inner genius and take your life by storm, Awaken Your Genius will put you on the path, give you the tools you need, and keep you sustained, inspired, and supported along the way. If you're serious about cultivating your most imaginative, fearless, intuitive self, don't miss this book.
The Body Keeps the Score by Bessel Van Der Kolk
Trauma is a fact of life. Veterans and their families deal with the painful aftermath of combat; one in five Americans has been molested; one in four grew up with alcoholics; one in three couples have engaged in physical violence. Dr. Bessel van der Kolk, one of the world's foremost experts on trauma, has spent over three decades working with survivors. In The Body Keeps the Score, he uses recent scientific advances to show how trauma literally reshapes both body and brain, compromising sufferers' capacities for pleasure, engagement, self-control, and trust. He explores innovative treatments—from neurofeedback and meditation to sports, drama, and yoga—that offer new paths to recovery by activating the brain's natural neuroplasticity. Based on Dr. van der Kolk's own research and that of other leading specialists, The Body Keeps the Score exposes the tremendous power of our relationships both to hurt and to heal—and offers new hope for reclaiming lives.
Healthy as F*ck by Oonagh Duncan
A no-excuses kick-in-the-ass to wellness, from an award-winning trainer and fitness expert.
Join the movement. Ditch the diet.
Who is ready to stop thinking about weight loss? To free their brain from thoughts about ketones, calories, and fasting? Who wants life to be more effortless, energetic, and empowered? 
Welcome to a refreshing and gloriously unapologetic conversation about health, fitness, and habits. Award-winning trainer Oonagh Duncan cuts through the wellness clutter to drop some truth bombs: It might not be six-pack abs you're looking for – it might be happiness, confidence, and acceptance. But if losing your belly is what you want, don't let anyone – including yourself – stop you from going after it. And she'll show you how to make it happen. 
There's only one major difference between those rare people who have managed to lose weight and the rest of us: their habits. When you acknowledge that following a diet is not getting you anywhere and you make a few small changes to your everyday routine, you'll find yourself happier and healthy as f–k.
Polysecure by Jessica Fern
Attachment theory has entered the mainstream, but most discussions focus on how we can cultivate secure monogamous relationships. What if, like many people, you're striving for secure, happy attachments with more than one partner?  
Polyamorous psychotherapist Jessica Fern breaks new ground by extending attachment theory into the realm of consensual nonmonogamy. Using her nested model of attachment and trauma, she expands our understanding of how emotional experiences can influence our relationships. Then, she sets out six specific strategies to help you move toward secure attachments in your multiple relationships.  
Polysecure is both a trailblazing theoretical treatise and a practical guide. It provides nonmonogamous people with a new set of tools to navigate the complexities of multiple loving relationships and offers radical new concepts that are sure to influence the conversation about attachment theory. 
How to be an Antiracist by Ibram X. Kendi
Antiracism is a transformative concept that reorients and reenergizes the conversation about racism—and, even more fundamentally, points us toward liberating new ways of thinking about ourselves and each other. At its core, racism is a powerful system that creates false hierarchies of human value; its warped logic extends beyond race, from the way we regard people of different ethnicities or skin colors to the way we treat people of different sexes, gender identities, and body types. Racism intersects with class and culture and geography and even changes the way we see and value ourselves. In How to Be an Antiracist, Kendi takes readers through a widening circle of antiracist ideas—from the most basic concepts to visionary possibilities—that will help readers see all forms of racism clearly, understand their poisonous consequences, and work to oppose them in our systems and in ourselves.
Kendi weaves an electrifying combination of ethics, history, law, and science with his own personal story of awakening to antiracism. This is an essential work for anyone who wants to go beyond the awareness of racism to the next step: contributing to the formation of a just and equitable society.
Women Who Run with the Wolves by Clarissa Pinkola Estes
Within every woman there is a wild and natural creature, a powerful force, filled with good instincts, passionate creativity, and ageless knowing. Her name is Wild Woman, but she is an endangered species. Though the gifts of wildish nature come to us at birth, society's attempt to "civilize" us into rigid roles has plundered this treasure, and muffled the deep, life-giving messages of our own souls. Without Wild Woman, we become over-domesticated, fearful, uncreative, trapped. Clarissa Pinkola Estes, Ph.D., Jungian analyst and cantadora storyteller, shows how woman's vitality can be restored through what she calls "psychic archeological digs" into the bins of the female unconscious. In Women Who Run with the Wolves, Dr. Estes uses multicultural myths, fairy tales, folk tales, and stories chosen from over twenty years of research that help women reconnect with the healthy, instinctual, visionary attributes of the Wild Woman archetype. In Women Who Run with the Wolves, Dr. Estes has created a new lexicon for describing the female psyche. Fertile and lifegiving, it is a psychology of women in the truest sense, a knowing of the soul.
Quit Like a Woman by Holly Whitaker
We live in a world obsessed with drinking. We drink at baby showers and work events, brunch and book club, graduations and funerals. Yet no one ever questions alcohol's ubiquity—in fact, the only thing ever questioned is why someone doesn't drink. It is a qualifier for belonging and if you don't imbibe, you are considered an anomaly. As a society, we are obsessed with health and wellness, yet we uphold alcohol as some kind of magic elixir, though it is anything but.
When Holly Whitaker decided to seek help after one too many benders, she embarked on a journey that led not only to her own sobriety, but revealed the insidious role alcohol plays in our society and in the lives of women in particular. What's more, she could not ignore the ways that alcohol companies were targeting women, just as the tobacco industry had successfully done generations before. Fueled by her own emerging feminism, she also realized that the predominant systems of recovery are archaic, patriarchal, and ineffective for the unique needs of women and other historically oppressed people—who don't need to lose their egos and surrender to a male concept of God, as the tenets of Alcoholics Anonymous state, but who need to cultivate a deeper understanding of their own identities and take control of their lives. When Holly found an alternate way out of her own addiction, she felt a calling to create a sober community with resources for anyone questioning their relationship with drinking, so that they might find their way as well. Her resultant feminine-centric recovery program focuses on getting at the root causes that lead people to overindulge and provides the tools necessary to break the cycle of addiction, showing us what is possible when we remove alcohol and destroy our belief system around it.
Written in a relatable voice that is honest and witty, Quit Like a Woman is at once a groundbreaking look at drinking culture and a road map to cutting out alcohol in order to live our best lives without the crutch of intoxication. You will never look at drinking the same way again.
Waking the Tiger by Peter A. Levine
Nature's Lessons in Healing Trauma… Waking the Tiger offers a new and hopeful vision of trauma. It views the human animal as a unique being, endowed with an instinctual capacity. It asks and answers an intriguing question: why are animals in the wild, though threatened routinely, rarely traumatized? By understanding the dynamics that make wild animals virtually immune to traumatic symptoms, the mystery of human trauma is revealed. Waking the Tiger normalizes the symptoms of trauma and the steps needed to heal them. People are often traumatized by seemingly ordinary experiences. The reader is taken on a guided tour of the subtle, yet powerful impulses that govern our responses to overwhelming life events. To do this, it employs a series of exercises that help us focus on bodily sensations. Through heightened awareness of these sensations trauma can be healed.
Come As You Are by Emily Nagoski
An essential exploration of why and how women's sexuality works—based on groundbreaking research and brain science—that will radically transform your sex life into one filled with confidence and joy.
Researchers have spent the last decade trying to develop a "pink pill" for women to function like Viagra does for men. So where is it? Well, for reasons this book makes crystal clear, that pill will never be the answer—but as a result of the research that's gone into it, scientists in the last few years have learned more about how women's sexuality works than we ever thought possible, and Come as You Are explains it all.
The first lesson in this essential, transformative book by Dr. Emily Nagoski is that every woman has her own unique sexuality, like a fingerprint, and that women vary more than men in our anatomy, our sexual response mechanisms, and the way our bodies respond to the sexual world. So we never need to judge ourselves based on others' experiences. Because women vary, and that's normal.
Second lesson: sex happens in a context. And all the complications of everyday life influence the context surrounding a woman's arousal, desire, and orgasm.
Cutting-edge research across multiple disciplines tells us that the most important factor for women in creating and sustaining a fulfilling sex life, is not what you do in bed or how you do it, but how you feel about it. Which means that stress, mood, trust, and body image are not peripheral factors in a woman's sexual wellbeing; they are central to it. Once you understand these factors, and how to influence them, you can create for yourself better sex and more profound pleasure than you ever thought possible.
And Emily Nagoski can prove it.
The Tibetan Book of Living and Dying by Sogyal Rinpoche
An acclaimed spiritual masterpiece, The Tibetan Book of Living and Dying is a manual for life and death and a magnificent source of sacred inspiration from the heart of the Tibetan tradition. Sogyal Rinpoche delivers a lucid and inspiring introduction to the practice of meditation, to the nature of mind, to karma and rebirth, to compassionate love and care for the dying, and to the trials and rewards of the spiritual path.
The Seven Spiritual Laws of Success by Deepak Chopra
Looking for a practical guide to the fulfillment of your dreams? Based on natural laws which govern all of creation, this audio shatters the myth that success is the result of hard work, exacting plans, or driving ambition. In The Seven Spiritual Laws of Success, Deepak Chopra distills the essence of his teachings into 7 simple, yet powerful principles that can easily be applied to create success in all areas of your life.
Existential Kink by Carolyn Elliott
A smart, sexy guide to embracing the repressed, tabooed, and often unwanted aspects of ourselves so we can discover our inner power and finally live the life we deserve. "We always get exactly what we want; but often, though we may not be aware of it, what we most want is dark – very dark." 
Each of us has a dual nature: we are light (conscious) and dark (unconscious). The dark side of our personality – the "other", the shadow side – is made up of what we think is our primitive, primal, negative impulses – our "existential kink." Our existential kink also drives the dark or negative repeating patterns in our life: always choosing the abusive partner or boss, settling for less, thinking that we're undeserving, not worthy. But it also is the source of our greatest power. 
In Existential Kink, Carolyn Elliot, PhD, offers a truth-telling guide for bringing our shadow into the light. Inviting us to make conscious the unconscious, Elliot asks us to own the subconscious pleasure we get from the stuck, painful patterns of our existence. 
Existential Kink provides practical advice and meditations so we truly see our shadow side's "guilty pleasures", love and accept them, and integrate them into our whole being. By doing so, Elliot shows, we bring to life the raw, hot, glorious power we all have to get what we really want in our lives.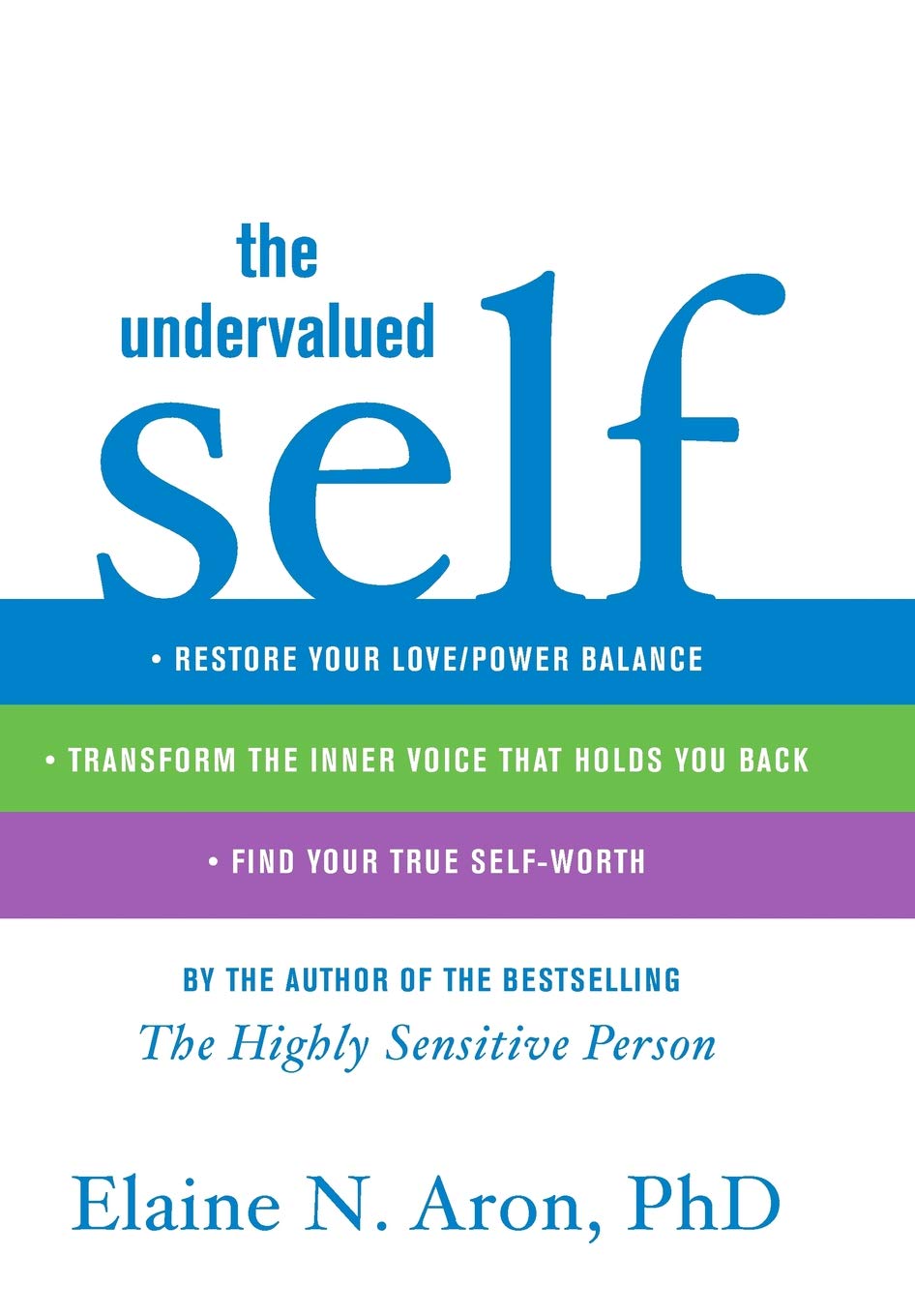 The Undervalued Self by Elaine Aron
Restore Your Love/Power Balance, Transform the Inner Voice That Holds You Back, and Find Your True Self-Worth
Elaine Aron follows up her best sellers on the highly sensitive person with a groundbreaking new book on the undervalued self. She explains that self-esteem results from having a healthy balance of love and power in our lives. Listeners will learn to incorporate love into situations that seem to require power and deal with power struggles that mask themselves as issues of love. From the bedroom to the boardroom, her strategies will enable us to escape feelings of shame, defeat, and depression; dissolve relationship hostility; and become our best selves.
With Aron's clear, empathetic writing and extraordinary scientific and human insight, The Undervalued Self is a simple and effective guide to developing healthy, fulfilling relationships, and finding true self-worth.
The Power of Now by Eckhart Tolle
Much more than simple principles and platitudes, the book takes readers on an inspiring spiritual journey to find their true and deepest self and reach the ultimate in personal growth and spirituality: the discovery of truth and light.
In the first chapter, Tolle introduces readers to enlightenment and its natural enemy, the mind. He awakens readers to their role as a creator of pain and shows them how to have a pain-free identity by living fully in the present. The journey is thrilling, and along the way, the author shows how to connect to the indestructible essence of our Being, "the eternal, ever-present One Life beyond the myriad forms of life that are subject to birth and death."
Sex at Dawn by Christopher Ryan and Cacilda Jetha
Since Darwin's day, we've been told that sexual monogamy comes naturally to our species. Mainstream science – as well as religious and cultural institutions – has maintained that men and women evolved in families in which a man's possessions and protection were exchanged for a woman's fertility and fidelity. But this narrative is collapsing. Fewer and fewer couples are getting married, and divorce rates keep climbing as adultery and flagging libido drag down even seemingly solid marriages.
How can reality be reconciled with the accepted narrative? It can't be, according to renegade thinkers Christopher Ryan and Cacilda Jetha. While debunking almost everything we "know" about sex, they offer a bold alternative explanation in this provocative and brilliant book.
Ryan and Jetha's central contention is that human beings evolved in egalitarian groups that shared food, child care, and, often, sexual partners. Weaving together convergent, frequently overlooked evidence from anthropology, archaeology, primatology, anatomy, and psychosexuality, the authors show how far from human nature monogamy really is. Human beings everywhere and in every era have confronted the same familiar, intimate situations in surprisingly different ways. The authors expose the ancient roots of human sexuality while pointing toward a more optimistic future illuminated by our innate capacities for love, cooperation, and generosity.
The Way of Integrity by Martha Beck
Best-selling author, life coach, and sociologist Martha Beck explains why "integrity" – needed now more than ever in these tumultuous times – is the key to a meaningful and joyful life.
As Martha Beck says in her book, "Integrity is the cure for psychological suffering. Period."
In The Way of Integrity, Beck presents a four-stage process that anyone can use to find integrity, and with it, a sense of purpose, emotional healing, and a life free of mental suffering. Much of what plagues us – people pleasing, staying in stale relationships, negative habits – all point to what happens when we are out of touch with what truly makes us feel whole.
Inspired by The Divine Comedy, Beck uses Dante's classic hero's journey as a framework to break down the process of attaining personal integrity into small, manageable steps. She shows how to read our internal signals that lead us towards our true path, and to recognize what we actually yearn for versus what our culture sells us.
With techniques tested on hundreds of her clients, Beck brings her expertise as a social scientist, life coach and human being to help readers to uncover what integrity looks like in their own lives. She takes us on a spiritual adventure that not only will change the direction of our lives, but also bring us to a place of genuine happiness.
Guiding Principles for Life Beyond Victim Consciousness by Lynne Forest
"Guiding Principles for Life Beyond Victim Consciousness" deftly describes how most of us move in and out of what Lynne Forrest calls "victim consciousness," and then provides a set of well-defined tools or "Guiding Principles" which can be used to break free of this limiting mindset. Lynne defines victim consciousness as "the habit of thinking something outside of us is responsible for our happiness or unhappiness."
In this remarkably timely and highly significant book, Lynne outlines a step-by-step process for activating what she calls "observer consciousness" which is the antithesis of victim consciousness.
In Lynne's own words, "Observer consciousness is a personal state of awareness that allows us to recognize the happenings in our lives as intentional opportunities to further our connection with ourselves and with Source."
Lynne is a seasoned professional who has helped and supported her clients through all kinds of life issues: addiction, problematic relationships, spiritual malaise, etc. She uses a unique blend of ideas and methods distilled from the more classic works of Karpman, Byron Katie, Eckhart Tolle, and others, and presents, as a result, a clear, profound, and easy-to-follow program. These methods are grounded in universal and metaphysical principles.
The Highly Sensitive Person by Elaine Aron
ARE YOU A HIGHLY SENSITIVE PERSON?
Do you have a keen imagination and vivid dreams? Is time alone each day as essential to you as food and water? Are you noted for your empathy?  Your conscientiousness? Do noise and confusion quickly overwhelm you? If your answers are yes, you may be a highly sensitive person (HSP) and Dr. Elaine Aron's The Highly Sensitive Person is the life-changing guide you'll want in your toolbox.
Over twenty percent of people have this amazing, innate trait.  Maybe you are one of them.  A similar percentage is found in over 100 species, because high sensitivity is a survival strategy.  It is also a way of life for HSPs.
In this 25th anniversary edition of the groundbreaking classic, Dr. Elaine Aron, a research and clinical psychologist as well as an HSP herself, helps you grasp the reality of your wonderful trait, understand your past in the light of it, and make the most of it in your future. Drawing on her many years of study and face-to-face time spent with thousands of HSPs, she explains the changes you will need to make in order to lead a fuller, richer life.
Along with a new Author's Note, the latest scientific research, and a fresh discussion of anti-depressants, this edition of The Highly Sensitive Person is more essential than ever for creating the sense of self-worth and empowerment every HSP deserves and our planet needs.
Rich as F*ck by Amanda Frances
For too long, the subject of money has been shrouded in fear, secrecy, and anxiety. It's time to look behind the curtain at money, while stepping into the empowered financial reality that is available to you. Reading Rich As F*ck is sure to ignite an avalanche of change in the most important areas of your life. Once you finally see money for what it is and realize your power over your finances, life will never be the same. It's time you know the truth about money. It's time for you to have more money than you know what to do with. This is your blueprint.
Whether you experience debilitating anxiety when thinking about your bills, are buried by debt, feel guilty for wanting more than you have, are stuck in a feast-or-famine cycle, if money has always been the problem for you and never a solution, or if you are simply seeking the next steps on your path of financial growth, this revolutionary book holds your answers. In Rich As F*ck, Amanda Frances demystifies the topic of money, cracking the code of financial liberation and abundance. Her magnetic words will open your heart and mind and help you see the truth about how money actually works.
My Grandmother's Hands by Resmaa Menakem
In this groundbreaking book, therapist Resmaa Menakem examines the damage caused by racism in America from the perspective of trauma and body-centered psychology.
The body is where our instincts reside and where we fight, flee, or freeze, and it endures the trauma inflicted by the ills that plague society. Menakem argues this destruction will continue until Americans learn to heal the generational anguish of white supremacy, which is deeply embedded in all our bodies. Our collective agony doesn't just affect African Americans. White Americans suffer their own secondary trauma as well. So do blue Americans—our police.
My Grandmother's Hands is a call to action for all of us to recognize that racism is not only about the head, but about the body, and introduces an alternative view of what we can do to grow beyond our entrenched racialized divide.
Paves the way for a new, body-centered understanding of white supremacy—how it is literally in our blood and our nervous system.

 

Offers a step-by-step healing process based on the latest neuroscience and somatic healing methods, in addition to incisive social commentary.
Resmaa Menakem, MSW, LICSW, SEP, is a leading voice in today's conversation on racialized trauma and the creator of Cultural Somatics, which utilizes the body and its natural resilience as mechanisms for growth. As a therapist and the founder of Justice Leadership Solutions, a leadership consulting firm, Resmaa dedicates his expertise to coaching leaders through civil unrest, organizational change, and community building
Untamed by Glennon Doyle
In her most revealing and powerful memoir yet, the activist, speaker, best-selling author, and "patron saint of female empowerment" (People) explores the joy and peace we discover when we stop striving to meet others' expectations and start trusting the voice deep within us.
This is how you find yourself.
There is a voice of longing inside each woman. We strive so mightily to be good: good partners, daughters, mothers, employees, and friends. We hope all this striving will make us feel alive. Instead, it leaves us feeling weary, stuck, overwhelmed, and underwhelmed. We look at our lives and wonder: Wasn't it all supposed to be more beautiful than this? We quickly silence that question, telling ourselves to be grateful, hiding our discontent – even from ourselves.
For many years, Glennon Doyle denied her own discontent. Then, while speaking at a conference, she looked at a woman across the room and fell instantly in love. Three words flooded her mind: There She Is. At first, Glennon assumed these words came to her from on high. But she soon realized they had come to her from within. This was her own voice – the one she had buried beneath decades of numbing addictions, cultural conditioning, and institutional allegiances. This was the voice of the girl she had been before the world told her who to be. Glennon decided to quit abandoning herself and to instead abandon the world's expectations of her. She quit being good so she could be free. She quit pleasing and started living.
Soulful and uproarious, forceful and tender, Untamed is both an intimate memoir and a galvanizing wake-up call. It is the story of how one woman learned that a responsible mother is not one who slowly dies for her children, but one who shows them how to fully live. It is the story of navigating divorce, forming a new blended family, and discovering that the brokenness or wholeness of a family depends not on its structure but on each member's ability to bring her full self to the table. And it is the story of how each of us can begin to trust ourselves enough to set boundaries, make peace with our bodies, honor our anger and heartbreak, and unleash our truest, wildest instincts so that we become women who can finally look at ourselves and say: There She Is.
Untamed shows us how to be brave. As Glennon insists: The braver we are, the luckier we get.
Everything is Figureoutable by Marie Forleo
From the host of the award-winning MarieTV and The Marie Forleo Podcast, an indispensable handbook for becoming the creative force of your own life.
While most self-help books offer quick fixes, Everything is Figureoutable will retrain your brain to think more creatively and positively in the face of setbacks. In the words of Cheryl Strayed, it's "a must-read for anyone who wants to face their fears, fulfill their dreams, and find a better way forward."
If you're having trouble solving a problem or reaching a dream, the problem isn't you. It's that you haven't yet installed the one belief that changes everything.
Marie's mom once told her, "Nothing in life is that complicated. You can do whatever you set your mind to if you roll up your sleeves. Everything is figureoutable."
Whether you want to leave a dead end job, break an addiction, learn to dance, heal a relationship, or grow a business, Everything is Figureoutable will show you how.
You'll learn:
-The habit that makes it 42 percent more likely you'll achieve your goals.

-How to overcome a lack of time and money.

-How to deal with criticism and imposter syndrome.

It's more than just a fun phrase to say. It's a philosophy of relentless optimism. A mindset. A mantra. A conviction.
Most important, it's about to make you unstoppable. 
Overcoming Under Earning by Barbara Stanny
When it comes to money, are you controlled by fear? Do you underestimate your worth? Are you ready to go to the next level, but can't seem to get there?
If you answered yes to any of these questions, you may be an underearner. Underearners are self-saboteurs who don't live up to their earnings potential, says Barbara Stanny, a financial educator, motivational speaker, and career counselor. Whether they make $10 an hour or six figures a year, they tend to live paycheck to paycheck, are often in debt, and have a high tolerance for low pay. Ironically, many work incredibly hard. The good news is that underearning is a self-imposed condition. By focusing on overcoming it, underearners will not only earn what they deserve, but live a richer life. With techniques and exercises that have helped thousands of people, Stanny teaches five essential steps to financial independence and brings a message of empowerment to all those who chronically undervalue themselves.
Attached by Amir Levine and Rachel Heller
We already rely on science to tell us what to eat, when to exercise, and how long to sleep. Why not use science to help us improve our relationships? In this revolutionary book, psychiatrist and neuroscientist Dr. Amir Levine and Rachel Heller scientifically explain why some people seem to navigate relationships effortlessly, while others struggle.
Discover how an understanding of adult attachment – the most advanced relationship science in existence today – can help us find and sustain love. Pioneered by psychologist John Bowlby in the 1950s, the field of attachment posits that each of us behaves in relationships in one of three distinct ways:
-Anxious people are often preoccupied with their relationships and tend to worry about their partner's ability to love them back.  

-Avoidant people equate intimacy with a loss of independence and constantly try to minimize closeness.
-Secure people feel comfortable with intimacy and are usually warm and loving.

Attached guides readers in determining what attachment style they and their mate (or potential mate) follow, offering a road map for building stronger, more fulfilling connections with the people they love.
The Gifts of Imperfection by Brene Brown
A motivational and inspiring guide to wholehearted living, rather than just the average self-help book, with this groundbreaking work Brené Brown, Ph.D., bolsters the self-esteem and personal development process through her characteristic heartfelt, honest storytelling. With original research and plenty of encouragement, she explores the psychology of releasing our definitions of an "imperfect" life and embracing living authentically. Brown's "ten guideposts"  are benchmarks for authenticity that can help anyone establish a practice for a life of honest beauty—a perfectly imperfect life.
Now more than ever, we all need to cultivate feelings of self-worth, as well as acceptance and love for ourselves. In a world where insults, criticisms, and fears are spread too generously alongside messages of unrealistic beauty, attainment, and expectation, we look for ways to "dig deep" and find truth and gratitude in our lives. A new way forward means we can't hold on too tightly to our own self-defeating thoughts or the displaced pain in our world. Instead, we can embrace the imperfection.
The Untethered Soul by Michael Singer
Who are you? When you start to explore this question, you find out how elusive it really is. Are you a physical body? A collection of experiences and memories? A partner to relationships? Each time you consider these aspects of yourself, you realize that there is much more to you than any of these can define. The Untethered Soul, spiritual teacher Michael Singer explores the question of who we are and arrives at the conclusion that our identity is to be found in our consciousness, the fact of our ability to observe ourselves, and the world around us. By tapping into traditions of meditation and mindfulness, Singer shows how the development of consciousness can enable us all to dwell in the present moment and let go of painful thoughts and memories that keep us from achieving happiness and self-realization.
This book, copublished with the Institute of Noetic Sciences (IONS), offers a frank and friendly discussion of consciousness and how we can develop it. In part one, he examines the notion of self and the inner dialogue we all live with. Part two examines the experience of energy as it flows through us and works to show readers how to open their hearts to the energy of experience that permeates their lives. Ways to overcome tendencies to close down to the rest of the world are the subject of part three. Enlightenment, the embrace of universal consciousness, is the subject of part four. And finally, in part five, Singer returns to daily life and the pursuit of unconditional happiness. Throughout, the book maintains a light and engaging tone, free from heavy dogma and prescriptive religious references. The easy exercises that figure in each chapter help readers experience the ideas that Singer presents.
Braiding Sweetgrass by Robin Wall Kimmerer
Drawing on her life as an indigenous scientist, and as a woman, Kimmerer shows how other living beings―asters and goldenrod, strawberries and squash, salamanders, algae, and sweetgrass―offer us gifts and lessons, even if we've forgotten how to hear their voices. In reflections that range from the creation of Turtle Island to the forces that threaten its flourishing today, she circles toward a central argument: that the awakening of ecological consciousness requires the acknowledgment and celebration of our reciprocal relationship with the rest of the living world. For only when we can hear the languages of other beings will we be capable of understanding the generosity of the earth, and learn to give our own gifts in return.
The State of Affairs by Ester Perel
An affair: it can rob a couple of their relationship, their happiness, their very identity. And yet, this extremely common human experience is so poorly understood. What are we to make of this time-honored taboo—universally forbidden yet universally practiced? Why do people cheat—even those in happy marriages? Why does an affair hurt so much? When we say infidelity, what exactly do we mean? Do our romantic expectations of marriage set us up for betrayal? Is there such a thing as an affair-proof marriage? Is it possible to love more than one person at once? Can an affair ever help a marriage? Perel weaves real-life case stories with incisive psychological and cultural analysis in this fast-paced and compelling book.
For the past ten years, Perel has traveled the globe and worked with hundreds of couples who have grappled with infidelity. Betrayal hurts, she writes, but it can be healed. An affair can even be the doorway to a new marriage—with the same person. With the right approach, couples can grow and learn from these tumultuous experiences, together or apart.
Affairs, she argues, have a lot to teach us about modern relationships—what we expect, what we think we want, and what we feel entitled to. They offer a unique window into our personal and cultural attitudes about love, lust, and commitment. Through examining illicit love from multiple angles, Perel invites readers into an honest, enlightened, and entertaining exploration of modern marriage in its many variations.
Mating in Captivity by Ester Perel
One of the world's most respected voices on erotic intelligence, Esther Perel offers a bold, provocative new take on intimacy and sex. Mating in Captivity invites us to explore the paradoxical union of domesticity and sexual desire, and explains what it takes to bring lust home.
Drawing on more than twenty years of experience as a couples therapist, Perel examines the complexities of sustaining desire. Through case studies and lively discussion, Perel demonstrates how more exciting, playful, and even poetic sex is possible in long-term relationships. Wise, witty, and as revelatory as it is straightforward, Mating in Captivity is a sensational book that will transform the way you live and love.